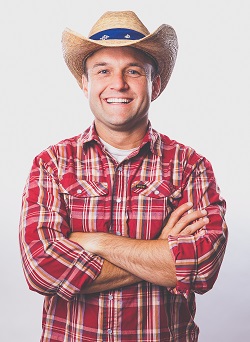 Chet Garner: a Texas-Sized Storyteller
Chet Garner didn't get here the easy way. But according to Chet, anything that comes easy, probably ain't worth having.
Chet is a native Texan. Born in Comanche and raised in Port Neches, Chet's love for storytelling began at a young age around the Boy Scout campfire and toting around his grandfather's VHS camera. You've likely never seen "Attack of the Killer Space Noodles from Mars" Parts 1, 2, and 3. But they were a huge hit in the late 90's in Southeast Texas. At least two people rented them from the local video store. And as far as we know, they never requested their money back. But so began Chet's career.
Chet followed his passions to the University of Texas at Austin where he graduated with a degree in Radio-Television-Film. Taking the road less traveled, Chet was the only film major at Baylor Law School but went on to graduate first in his class and landed a prestigious job in downtown Austin with the law firm of Fulbright and Jaworski LLP. However, after practicing law for 3 years, Chet decided it was time to follow his passions and simultaneously inspire folks to appreciate the beauty, history, and food of the Lone Star State.
Chet wanted his fellow Texans to realize that some of the greatest adventures in the world are right here in Texas. And so he created The Daytripper, a 30-minute Texas travel show highlighting a single town or destination and aiming to inspire folks to follow in his footsteps. PBS gave Chet the greenlight and what followed was a crash course in travel, filmmaking, marketing, and doing whatever it takes to launch a successful TV show. The Daytripper is now in its eleventh season, it has won 9 Lone Star Emmys including 4 for "Outstanding Program Host," and is well on its way to becoming a Texas institution.
From hiking Guadalupe Peak (Texas's tallest point) to taking windsurfing lessons on North Padre Island, and from eating a cow's eyeball in Brownsville to attempting to eat a 72-oz steak in Amarillo, there is nothing Chet won't do to share the stories of Texas. "The Daytripper" is now shown in homes and in classrooms across Texas to teach people about the small towns, big cities, and Texas-sized stories found in every corner of the state. Chet's travels have inspired a community of travelers who share their stories and encourage one another to grab life by the wheel.
As an ambassador for Texas, Chet has the honor of speaking to groups of all sizes about his life on the road and his observations on tourism, food, rural issues, and the ever-evolving meaning of "TEXAS." Chet also shares his stories via monthly columns for both Texas Highways and Texas Co-Op Power magazines.
His company, Hogaboom Road, Inc., is now a full-service commercial production company with clients ranging from Smokey Bear to Best Western. Chet's team offices in an 1890's building in downtown Georgetown which Chet renovated into "The Daytripper World Headquarters" - a place to work and to host visitors from around the country seeking to interact with the show and buy Texas-made goods.
Chet is actively involved in the community; speaking at functions constantly and emceeing charity events across the state. Chet teaches weekly at his church, coaches his daughter's basketball team, and spends as much time as he can playing in the backyard treehouse he built with his kids. Chet is seeking to live life to the fullest and inspire others to do the same.
Appearing on stage Saturday, February 26 at 1 pm
Bill Swantner, Bexar County Master Gardener
Taking a little to time to research which plants to put into your latest landscape project will save you time, money, and disappointment. But where can you go to find the information you need? Join Bill Swantner, Bexar County Master Gardener, as he shares some of the best resources, and how to use them, to find plants that will thrive in your garden!
Appearing on stage Friday, February 25 at 5 pm
Holly Castillo - Gifts Galore & More
Swags, Deco-mesh and Grapevine, oh my! There are so many options to make your door (or even your gate entrance) welcoming and inviting for you and guests. Ever wonder what it takes to make these enchanting decorations? Join Holly on the Fresh Ideas Stage as you learn step-by-step how to make a "bubble" Deco-mesh wreath as well as an eye-catching Grapevine wreath. She'll discuss other types of decorations as well so you'll know exactly what is right for you!

Appearing on stage Friday, February 25 at 2 pm, Saturday, February 26 at 4 pm, and Sunday, February 27 at 1 pm
Dennis Celsor - Built Green Custom Homes
Learn the secrets to really add affordable energy efficiency as you design-build your new custom home. Build green while protecting the green in your bank account too.

Appearing on stage Friday, February 25 at 3 pm and Saturday, February 26 at 12 pm
Kim Keeshin - Chiki Buttah
Did you know that Medicare pays for one pair of shoes with customized insoles per year? We educate seniors on products and services that are already included in their Medicare plan. Also, we share preventative health tips and products such as pain relief, etc.
Just show your Medicare card and a quick foot scan can be done at the show. We process all the paperwork so you don't have to. Your new customized shoes will be shipped directly to you!
Appearing on stage Friday, February 25 at 1 pm and Sunday, February 27 at 3 pm